Welcome to my website.
I believe that children of all ages benefit hugely from books, whether it is merely turning the pages and 'making up their own story', learning to read using the words of the author, using the illustrations to produce their own pictures or perhaps just listening whilst the story is read out aloud, a book should fulfil all needs.
Nursery Rhymes have long been a source of providing children with familiar sounds in an entertaining format. I would suspect that many nursery rhymes have not only travelled across 'the ages' but travel across geographical boundaries too. No matter what age, most people would have a repetoir of at least one or two nursery rhymes that are as relevant to todays children as they were in days long gone.
Mouse's Great Adventure gives the reader the opportunity to participate in the story by guessing the rhyming word and I am sure that as the story is repeated, the child/children will join in from memory.
Although the story is aimed at 4-8 year olds, the language is not childish and may even challenge the younger listeners to ask questions. However, the book is not a complex one either, rather it is a simple story that has a beginning, middle and end, a bit of adventure and themes that are familiar as well as a 'trusty hero' in the shape of a cheeky Little Mouse. To put it quite simply, Mouse's Great Adventure is a great 'little read' to relax the reader and listener before bed.
The illustrator and myself designed each illustration to provide a link to the story. The final illustrations in the book are all water colour paintings unique as the story itself.
Mouse's Great Adventure, is a colorful, rhyming story for kids of all ages who love a bit of fun and adventure.
I suppose the person I need to thank for thrusting me into the world of publishing is Little Mouse himself. Quite simply Little Mouse 'arrived' – the first two lines of a verse, kept replaying themselves, in my mind, over and over. I became facinated, and tried my best to add a third line. However, each time I did so, I forgot the first two lines. Ultimately, I decided the best course of action would be to open up a docment on the computer and make notes.
As the days turned into weeks, I became engrossed in trying to think of rhyming words, whilst retaining the flow of the story. Ultimately I began to become curious about 'what happened to Little Mouse' – and so the story developed.
Once I had reached 'the end of the story' I believed that was that…goodbye Little Mouse. He however had other ideas, and I gradually realised that I missed writing the verses, so another adventure started.
I was halfway through story number 5 when I decided to see if anyone would be interested in publishing my first story…..and the rest, shall we say is history.
Mouse's Great Adventure is now available via Amazon as a paperback or ebook.
However, as a special offer to my website readers, I am able to offer books at the special introductory price of 14 euro including postage and packing or an ebook voucher for 2 euro.
Mouse's Great Adventure will also be available shortly as an audio book.
I trust that you and your children will enjoy this, my first venture into publishing, and I look forward to the future of publishing more Little Mouse stories.
Thank you for joining me on my website today.
If you have any comments or reviews then please use the links provided, I would love to hear from you.
---
Mouse and the Flood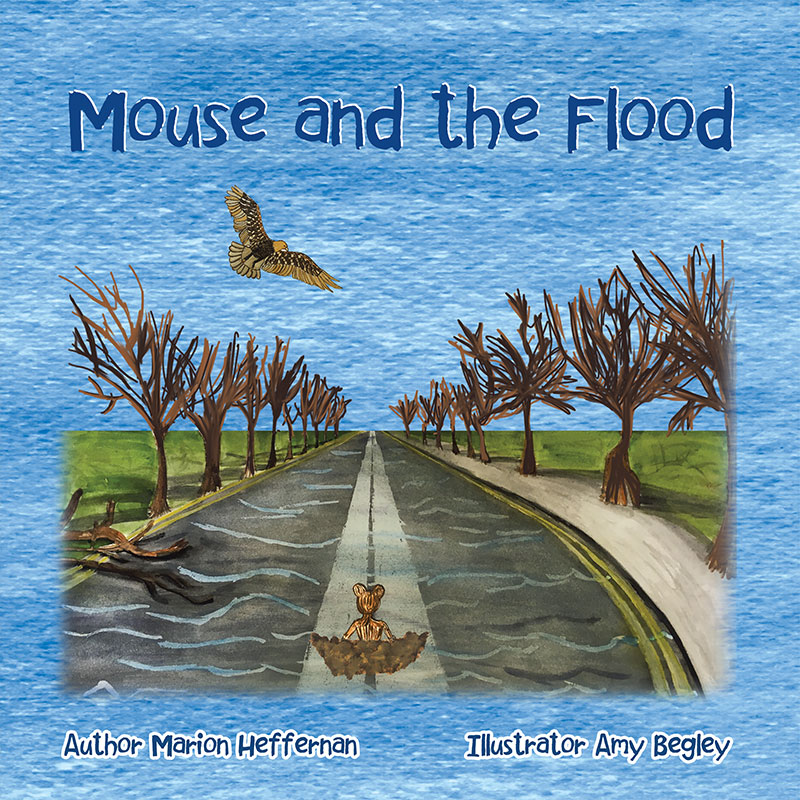 Mouse was sleeping soundly, in the barn, when the sounds of thunder and lightning awoke him.
As the rain sweeps through the barn, Little Mouse finds himself swept along and the journey continues at a pace, as his little coconut shell bed becomes a boat.
As he continues on his journey, mouse sails past some of his farmyard friends stranded by the rising waters.
What will happen to mouse? Will his impromptu boat journey keep him safe? Will he return to the farm?
---

Welcome. My name is Marion Heffernan, author of Mouse's Great Adventure. I'm so happy to have you as a visitor to my blog about my new book…

I love all things arty and crafty – and am honing my skills in pet portraits using oil paint. I also hand craft greeting cards but in the past have done knitting and sewing too…